Hollywood special effects artist and actor
Ed French as one of the cannibal killers.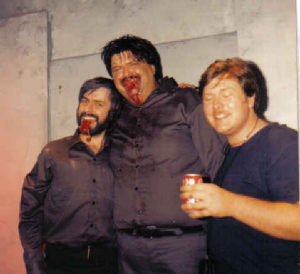 Ed French, Big Bob Gutowsky and
Warren in a set gag shot.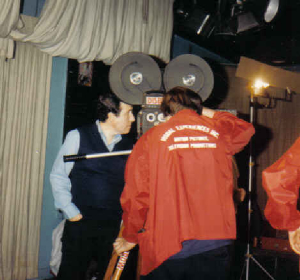 Sam Sherman looks through the camera as
Warren adjusts the ground glass focussing.
THE BLOODY DEAD was a movie I became involved with around 1987 as a direct result of doing a project for Tim Ferrante of FANGORIA magazine. I met Sam Sherman, President of Independent-International Pictures, through Murry Dietchwald, and Sam knew Tim Ferrante, who was a contributing writer for FANGORIA and who worked at ABC TV in NYC. Tim wanted to do a documentary on the history of drive-in movies called DRIVE-IN MADNESS. Tim had groups all over the counrty shooting interviews for him with famous genre people like Forry Ackerman, George Romero, Tom Savini, Linnea Quigley, John Russo and others for this documentary. Sam suggested me to Tim as someone who could shoot Sam's own interview at his New Brunswick, NJ office. We did the shoot and my film crew worked like real pros; they began on time and ended exactly on time to the minute. Sam was impressed. A few weeks later I got a call from Sam about shooting footage for THE BLOODY DEAD.
Sam sent his new 15 minute script to me, with frame captures from the movie, so we could find ( or make) matching clothes and rebuild the asylum sets in a studio in East Orange that effects artist Gene Reynolds, another friend of mine, knew of. Gene actually designed and built the matching asylum sets, with Tony Annunziata and myself helping him.
I went with Sam to the city to meet and cut a deal with special effects artist Ed French. Ed's home and artist's loft were filled with movie and TV related castings and props. The huge wooden indian from CREEPSHOW 2 was impressive, so were various monsters from CHUD, the TALES FROM THE DARKSIDE George Romero TV show, lifecasts of all the famous stars he created makeup appliances for. As Sam talked money and finalized the deal, I explored the treasures.
The shoot was going to be one day. In the month prior we had built the sets, managed to find period nurses' uniforms and asylum security guard clothes to match the German footage.
Sam had hired Ed for effects, (who acted in the movie too), and actress Denise Coward. I supplied the security guard actors played by Ruben Santiago and Al Vega, and one of the killer cannibals played by Bob Gutowsky. I also supplied all the film equipment - camera, lights, sound, etc, and a crew to operate them.
We all got paid for the day's work but nobody, including Sam, Ed French and Denise Coward, got screen credit, which all went to the German filmmakers. It wasn't until the IMAGE ENTERTAINMENT DVD release that I finally got credit for the work I had done on the movie via Sam Sherman's commentary track and DVD text:
"Sam needed to punch up the film with some gore to make the picture more appealing to modern-day audiences. That meant new scenes would have to be filmed. With a lucrative video distribution deal already on the table, Sam went to work and brought in associate Warren Disbrow to re-create the German asylum sets at his facilities in New Jersey. Hannibal Lector's SILENCE OF THE LAMBS institution cell recreation for 2002's THE RED DRAGON has been hailed for it's precision, but Sherman and Disbrow's attempt at duplicating Dr.Mangrove's asylum, where most of the newly shot footage was intended to expand upon, is no less impressive. It is actually difficult to tell the difference between the two sets" - said Jim Arena, in his liner notes on the IMAGE ENTERTAINMENT DVD.
Sam actually saw the sets for the very first time when he came to the studio the day of the shoot.
My father took it upon himself to re-create the armoured steal clawed glove the killer wore. Remaking the killer's claw wasn't in the contract, so Sam wasn't expecting to have the claw to shoot with and was happy to have it. My father made it out of cardboard with plastic retractible knives as fingers. It was Freddy Kruger's bladed glove years before the first NIGHTMARE ON ELM STREET was made. We still have that prop claw and recently Sam and my father posed for pictures with it.
Ed French did the gore effects. My father had his neck sliced open by Ed, another volunteer had his ribcage ripped open, etc. My father's neck slice went smoothly but the other guy had a funny accident. Blood was suppose to splurt from the slash made by the clawed glove but instead there was no blood when we started the camera. The blood filled his underwear instead, staining his skin red.
After Sam got all the scenes he wanted based on his script, he told me to feel free to shoot any other shots I could think of myself. I'm happy to say most of what I came up with got used in the final movie.
I really enjoyed working with Sam and there was talk over the years about doing other movies together but I guess it just wasn't meant to be.
BLOODY DEAD was released on VHS by a company called VERY STRANGE VIDEO/ EPI in CA. Very recently it got re-released in a special collector's edition DVD by IMAGE ENTERTAINMENT which contains the complete original German version called CREATURE WITH THE BLUE HAND and the Americanized version Sam and I made, THE BLOODY DEAD. You can buy the DVD at places like BORDERS and BEST BUY, and of course the internet DVD shops too.
As a side note in movie history, the original story for THE BLOODY DEAD was written by KING KONG author Edgar Wallace, starred international movie star Klaus Kinski and was one of Roger Corman's first feature releases for his new company NEW WORLD PICTURES. It's nice that I got the chance to contribute to this particular movie's history too.
In 2004 Sam Sherman and Warren Disbrow SR
posed for this picture holding the actual 1987 prop
claw that Warren Disbrow SR built for the movie.
Warren Disbrow SR in Ed French's throat cutting
appliance waiting to be filmed on the set back in 1987.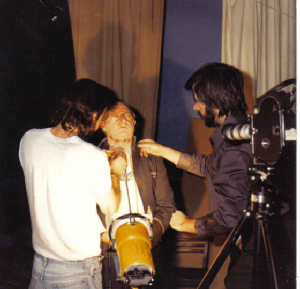 Cory Geryak assisted Ed French with Warren
SR.'s death scene shot.
Left to right: Director-Writer Sam Sherman with
Tim Ferrante of FANGORIA magazine, DRIVE-IN
MADNESS and FLESH EATERS FROM OUTER SPACE.
Cory Geryak sets up as actor Ruben Santigo
prepares for the next scenes as an asylum guard.