Greetings from Filmmaker's Hell!
I am obviously Warren F. Disbrow, I make feature movies and I currently live in Neptune, New Jersey.
I love horror, scifi and fantasy movies and you can kiss my ass if you don't. I can enjoy other kinds of movies too, but most of the movies I deeply love and collect posters, models, movie mold castings from are in the horror scifi realm.
I was born in New Jersey and haven't escaped yet. I went to Bible Baptist Church and Trinity Christain School, so I see Mel Gibson's PASSION OF THE CHRIST as a movie Satan would love - 2 hours of killing Christ. I'm not a bible thumper it's just my thoughts on the film.
I always wanted to make the same kind of wonderful movies I watched secretly as a kid on TV (despite parental disapproval). As a young child I wanted to see BRIDE OF FRANKENSTEIN(1935) on TV and no amount of disturbance I created changed my parents' "No" into a "Yes". I remember sneaking downstairs in the middle of the night to see Peter Cushing in Hammer's fantastic BRIDES OF DRACULA(1960) and before the movie was finished being caught and thrown back into bed by angry parents.
The first monster movie I saw was when I was roughly 5 or 6 years of age. On a very small black-and-white TV on a Sunday afternoon was THE CREATURE FROM THE BLACK LAGOON(1954). CREATURE just excited me no end and it still does. As an adult (at least I grew taller) I still love The Gill Man movies and love the original 1954 amazingly life-like suit. I now know Ben Chapman who was in that suit for the land scenes and now get Christmas and birthday cards from "The Gill Man" - how cool is that? And I have been able to collect casting out of the 1954 original studio molds of the suit's authentic head, claws and feet. I also collected Lon Chaney Jr's Wolfman appliances, Glen Strange's 1948 Frankenstein skull cap, and had a one time some of the original 1940s Universal studio old molds themselves. I collect anything "real" I can from horror movies, like the head cast from Linda Blair in THE EXORCIST.
I also collect castings of Gerry Anderson 1960s TV show puppets from FIREBALL XL5, STINGRAY, THUNDERBIRDS, CAPTAIN SCARLET, JOE 90 and SECRET SERVICE. Check elsewhere on this web site for a page on them.
As a teen I started shooting Super 8mm horror film shorts which I continued when I went to Brookdale Community College studying under Tim Nesterak and Stu Beach.
I went from Brookdale to Jersey City State in ...drum roll...Jersey City. I was mentored by a wonderful Professor named Mark Eisenstein and started shooting 16mm horror films. I made a bunch of shorts, the longest being KISS OF MEDUSA which was 25 minutes and in color and primered at the Hoboken Art Festival in 1982.
During this time I worked at CNN with Stewart Varney and Mary Alice Williams in World Trade Center Building 1. I handled lighting, mostly operated the studio cameras for live shows, alittle floor managing, etc. It was during this period I purchased my own complete Super 16mm film production/post production equipment to shoot my own movies. Mark sold me his 35mm Arri and his 35mm moviola to edit on. Sam Sherman, President of Independent-International Pictures, gave me a gift of a theater 35mm projector so I could screen my rushes at the studio rather than paying local theaters to see my raw footage after the feature.
My idol was and is George A Romero, who made the classics NIGHT OF THE LIVING DEAD(1968), DAWN OF THE DEAD(1977), DAY OF THE DEAD(1985) and the brand new LAND OF THE DEAD(2005). We corresponded for a period just before DAWN was released and a few years back I got to actually meet him and talk in person and he gave me his private phone number to talk some more.
Dailing Romero's house for me is scarier than any horror movie because I admire him so much he's slightly intimidating so I can't say I've taken full advantage of the confidence that he showed me by giving me his number. I'll get up the nerve to call him soon :o) .
The movies I made myself in the last 15 years, and which were distributed all over the world, have sold well, recieved very good reviews and even got me fan mail. Despite their very small budgets and primitive conditions under which they were made, they were and are to this day very successful.
Currently TROMA, INC has re-released special collector's additions of two of the older movies, FLESH EATERS FROM OUTER SPACE and INVASION FOR FLESH AND BLOOD. They are also releasing my newly filmed modern vampire movies SCARLET MOON(2005) and DARK BEGINNINGS(2006).
My father, Warren Disbrow Sr.,has become internationally famous for his reoccurring role as Prof. Hertz in all four of my movies. He recieved a good review in Italy and is usually recognized within the first hour of arriving at scifi/horror conventions.
At a May 19th, 2005 theater showing of INVASION FOR FLESH AND BLOOD in Red Bank, NJ sponsored by TROMA, my father got tremendous applause when his credit came on the big movie screen. He started his acting career in Sam Sherman's THE BLOODY DEAD (1987) as a victim of a killer. Its been nothing but fun for him.
Over the years many people have helped me with the movies, like Tony Annunziata, James Cirronella, Nick Primiano, Rubin Santiago, Shawn T. Reich, AnnMarie Donato, Warren Disbrow Sr., Francesca Chirelli, Dominic Gregoria, James Andriani, Mike Bruce of THE ALICE COOPER GROUP, Forry Ackerman of FAMOUS MONSTERS OF FILMLAND MAGAZINE, Desire'e Russo, Sam Sherman of INDEPENDENT-INTERNATIONAL PICTURES, Jack Russo of NIGHT OF THE LIVING DEAD, author Stephen King, Kathy Monks, Debbie Boenig of JERSEYWOOD PRODUCTIONS, Michael Herz and Lloyd Kaufman of TROMA, INC, Hollywood Effects Artist Ed French, Tim Ferrante of FANGORIA MAGAZINE, Stephen Mezo Jr. AKA TATTOOED STEVE, Horror King George A Romero and many others. Thanks guys for having faith in me.
There are a few scripts from my past I'd still like to make into movies, like RULERS OF THE APOCALYPSE, DEMON AT LEEDSPOINT and LAVIATHAN TEMPLE.
I actually started shooting RULERS on my own money, it was a dinosaur movie, but the needed funding never came and it was being shot on film which is very expensive. I had to pull the plug myself before I went broke. We still have the full size animatronic dinosaurs intact so maybe I can get someone to finance it someday. You never know.
There are several things I need to do but I am also going to try to shoot my own zombie movie within the next several months. I am doing all the PR work I neglected to do over the last 20 years of being in show biz and I am trying to raise money to shoot DIABOLICAL right, but I am also antsy to do another movie as soon as possible too. Its an addiction :o) . But before I can go into Romero's kingdom doing a zombie movie, I have to finish and get DARK BEGINNINGS to the distributor.
If you have helped me make these movies over the years or helped me promote them, or if you have supported my movies by renting or buying them, I sincerely thank you and I hope I can count on your continued support.
Spectrum is Green,
Warren F. Disbrow
President
Visual Experiences, Inc.
Contact me at: Visualexpe@aol.com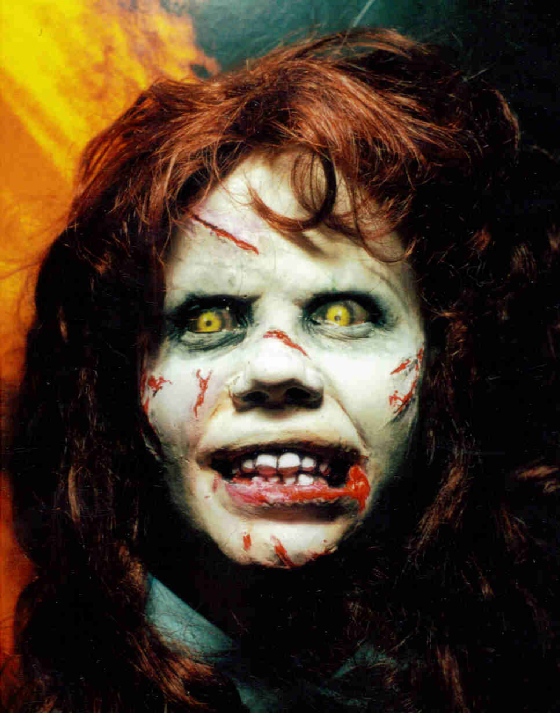 My authentic lifecast of Linda Blair in the
actual Dick Smith makeup for THE EXORCIST.
Smith made a duplicate of the demon in fibre
glass for the scene where the head turns and
this was created from that skin-pore-perfect
mold. Must be the scariest face in film.
Me as fan with GODZILLA 1954 suit actor.
I've been a huge fan of this kind of movie
all my life. The very first Godzilla(1954)
was a serious adult movie with political
statements to make and its my favorite.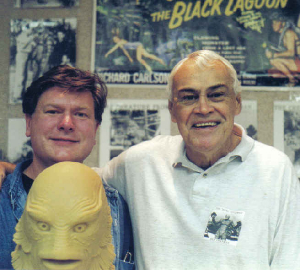 Me with Ben Chapman who played the 1954
CREATURE FROM THE BLACK LAGOON. The Gill Man
is my absolute favorite monster of all time. The
original design was by a woman, Milicent Patrick,
who's credit was stolen by Bud Westmore who had
little to do with it. Chris Mueller sculpted the very
life-like head and Jack Kevan designed how to make
the suit. Ben Chapman was 6 foot 7 inches tall but
more importantly he was an actor too. He gave the
Gill Man intelligence and depth and believability very
uncommon with suit actors. Thanks for making the
Gill Man "real" Ben, and creating a classic.
Me at a signing for the video release of INVASION
FOR FLESH AND BLOOD held at a Suncoast store.
In less than 3 hours we sold 61 copies of INVASION
and out sold all other titles except MY BEST FRIEND'S
WEDDING. Ron Toth purchased a copy and ended up
acting in SCARLET MOON! You never know.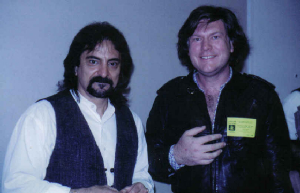 Special effects artist Tom Savini and I share a love
for CREATURE FROM THE BLACK LAGOON and he made
an excellent 50 pound solid stone bust created from the
movie molds of the best suit - the 1954 Land Creature -
which I purchased from him. I'm a big fan of Romero's
DAWN OF THE DEAD which is my favorite Savini film.
I do my own photography and lighting,
as well as writing and directing. When I
go to the theater and see the end credits
of all movies listing over a hundred people
in the crews I have to laugh. I do most of
those jobs solo. It would be nice to have
a crew, but when even tiny scope movies like
SIGNS have a huge list of people its a joke.
I could have made SIGNS for a fraction of
the cost and with just a ten man crew.